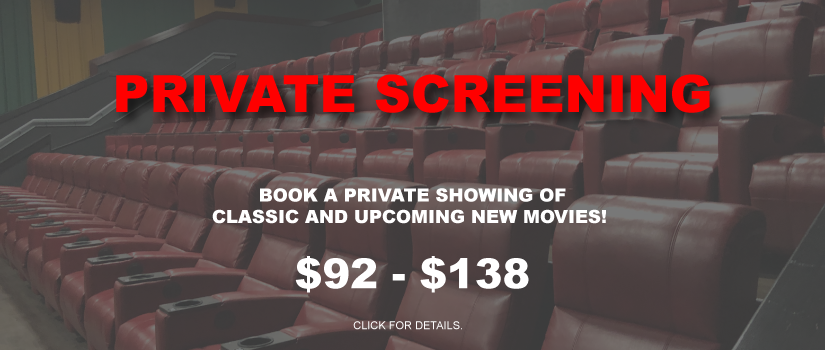 RESERVE A PRIVATE SCREENING FROM $92 - $138
Entertain guests with a private screening of the latest blockbuster or classic film in your own auditorium with guaranteed seating and no lines! Upto 20 people in your group are included. You choose the date and movie start time. Our Concession stand would be open for refreshment purchase. No outside food or drink would be allowed, except Cake for Birtday parties, anniversaries, etc. If you have more than 20 people in your group, additional charges would apply. Auditorium would be made available approx. 30 minutes before show start time.
Movies Available for Private Screening
JURASSIC PARK (1993) ($91.74)

GHOSTBUSTERS (1984) ($91.74)

SHREK ($91.74)

WAR WITH GRANDPA ($137.61)

HONEST THIEF ($137.61)

EMPTY MAN ($137.61)

ELF (2003) ($91.74)

NATIONAL LAMPOON'S CHRISTMAS VACATION ($91.74)

FREAKY ($137.61)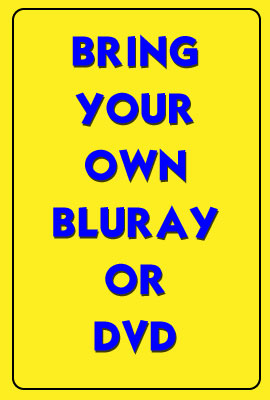 BRING YOUR OWN BLURAY OR DVD ($91.74)

LET HIM GO ($137.61)

DR. SEUSS' HOW THE GRINCH STOLE CHRISTMAS ($91.74)

VANGUARD ($137.61)

CROODS A NEW AGE ($137.61)

POLAR EXPRESS ($91.74)

GREMLINS ($91.74)

A CHRISTMAS STORY ($91.74)

Book a Private Screening Now!